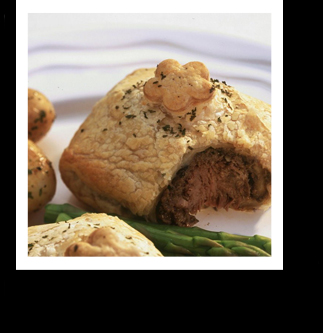 £5.80
Per Portion
Fantastic Value @ £58.00

Contents: 10 Wellingtons Per Box

Half Box: 5 Wellingtons = £29.00

Only £5.80 Per Portion

Description: Fillet steak with a chicken liver and bacon pate encased in puff pastry.
Cooking Instructions:
Cook from frozen in a pre heated 200′C oven for 40 minutes.
Ingredients:
Puff Pastry(42%), Beef (33%), Chicken liver & bacon pate (24%), Glaze. Wheatflour, Vegetable oil, hydrogenated vegetable oil. Water, salt, emulsifier E471, E322 (from Soya) colour E160b, E100, flavouring, preservative E233. Pate: Chicken liver (27%), bacon (17%) Pork (13%) (salt, sugar, dextrose, E250, E251, E252, stabliser E450, E451, E452. Antioxidant E301) Onions. Wheatflour, mushrooms, cream subsitute (water, vegetable oilm skimmed milk, buttermilk, whole milk, milk protein, sugar, modified maize starch, acidity regulator E340. Emulsifier E471, E322, stabilizer E401 Colour E460a) butter, margarine, E471, E160d, garlic puree, sherry brandy, E150a, herbs, salt, modified maize starch, pepper, yeast, E104,E122, acetic acid.