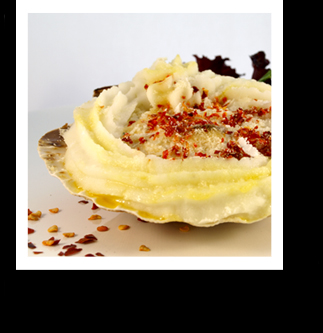 £4.40
Per Portion
Fantastic Value @ £44.00

Contents: 10 Shells Per Box

Half Box: 5 Shells = £22.00

Only £4.40 Per Portion

Description: Scallops, salmon and prawns in a mushroom and white wine sauce served in a king scallop shell and topped with piped potato and cheese.
Cooking Instructions:
Cook from frozen – in a pre-heated 200℃ oven for 35 – 40 minutes.
Ingredients:
White wine sauce(34%) (water, white wine(18%), dried bechemal(wheat flour, full cream, milk powder, hydrogenated vegetable fat, modified maize starch, salt, garlic powder, spice herb, fried glucose syrup) stock(fish, salt, maltodextrin, vegetable oil, lemon juice, stabiliser E412, anchovy, pepper extract, onion) Mashed potato(33%) (Emulsifier E471, cream substitute (water, vegetable oil, skimmed milk, buttermilk, whole milk, milk proteins, sugar, modified maize starch, acidity regulator E340, emulsifier E471, E322. Stabiliser E401, colour E160a) salt. cheddar cheese, scallops (8%) smoked salmon (8%), paprika, parsley.