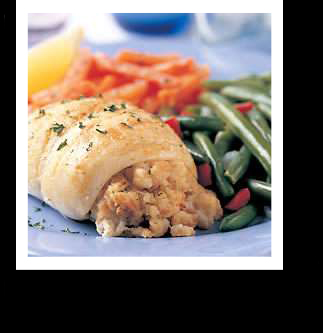 £3.00
Per Portion
Fantastic Value @ £36.00

Contents: 12 Elites Per Box

Half Box: 6 Elites = £18.00

Only £3.30 Per Portion

Description: Lemon sole fillets rolled and stuffed with scallops and crab meat.
Cooking Instructions:
Remove from bag. Oven bake – Place on tray & cover with foil. Bake at 200′C for 25-30 mins. Microwave- full power for 2 Mins turn then cook for another 2 mins.
Ingredients:
White Flatfish Fillets, Water, Partially Hydrogenated Soybean Oil, Bread Crumbs, Scallops, Gouda Cheese, Mayonnaise, Pollock, Crab, Margarine, Onion, Skim Milk Powder, Corn Starch, Lemon Juice Concentrate.